This hovercraft was meant to be a platform for a heavily armed hover gunship, until I realised bigger warcraft are in general weaker and more difficult to control and aim.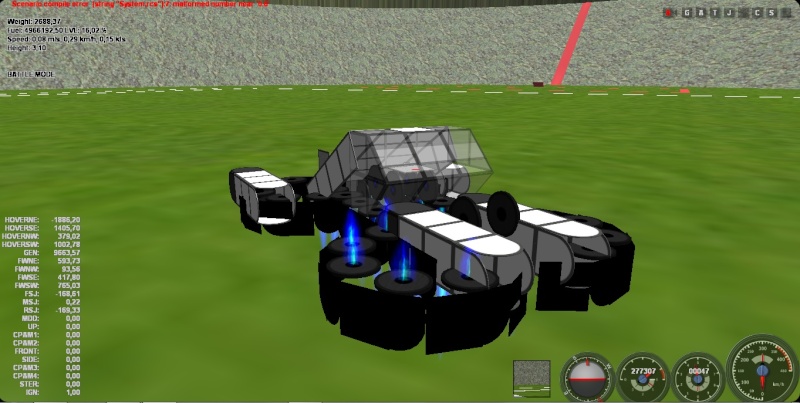 The speed is limited to 180 km/h in cruise mode, and still the veichle undergoes short-period vibrations at full speed.
Also, I realised I have serious problems implementing LUA; neither mine, nor other users' creations which are LUA-controlled do work on my PC.
Still, have a run.

X to Start/Stop Engine
G to toggle PATROL/CRUISE mode
Arrow keys to move fwd,bwd and sideways
A,D to turn
Code:



Val{

HoverNE(default=0, min=-20000)
HoverSE(default=0, min=-20000)
HoverNW(default=0, min=-20000)
HoverSW(default=0, min=-20000)
Gen(default=0)
FWNE(default=0, min=-250000, max=250000)
FWNW(default=0, min=-250000, max=250000)
FWSE(default=0, min=-250000, max=250000)
FWSW(default=0, min=-250000, max=250000)
FSJ(default=0, min=-150000, max=150000)
MSJ(default=0, min=-150000, max=150000)
RSJ(default=0, min=-150000, max=150000)
MDD(default=0)
Up(default=0, min=-10, max=10, step=0)
Cpam1(default=0, min=-20, max=20, step=150)
Cpam2(default=0, min=-20, max=50, step=0)
Front(default=0, min=-20, max=50)
Side(default=0, min=-10, max=10, step=1)
Cpam3(default=0, min=-10, max=10, step=1)
Cpam4(default=0, min=-10, max=10, step=0)
Ster(default=0, min=-10, max=10, step=1)
Ign(default=0, min=0, max=1, step=0)

}

Key{

0:Cpam1(step=1), Cpam2(step=1)
1:Cpam1(step=-1), Cpam2(step=-1)
2:Cpam3(step=1), Cpam4(step=1)
3:Cpam3(step=-1), Cpam4(step=-1)
7:Ster(step=1)
9:Ster(step=-1)
15:Up(step=-1)
8:Up(step=1)

}

Body{

Core(){ N:Cowl(effect=#ffff){
N:Cowl(angle=-135, effect=#a000){E:Cowl(effect=#a000){}W:Cowl(effect=#a000){}}
N:Cowl(angle=135, effect=#a000){E:Cowl(effect=#a000){}W:Cowl(effect=#a000){}}}
N:Cowl(angle=-90, effect=#ffff){N:Cowl(angle=134, effect=#a000){E:Cowl(effect=#a000){}W:Cowl(effect=#a000){}}}
E:Cowl(effect=#ffff){E:Cowl(angle=-90, effect=#a000){N:Cowl(option=4, effect=#a000){}}
E:Cowl(angle=90, effect=#a000){N:Cowl(option=4, effect=#a000){}}}
W:Cowl(effect=#ffff){W:Cowl(angle=-90, effect=#a000){N:Cowl(option=3, effect=#a000){}}}
S:Cowl(angle=-90, option=1){S:Cowl(angle=-90){E:Cowl(effect=#a000){}W:Cowl(effect=#a000){}}
S:Cowl(angle=120){E:Cowl(){E:Cowl(angle=90){}}W:Cowl(){W:Cowl(angle=90){}}
S:Cowl(){E:Cowl(){E:Cowl(angle=90){}}W:Cowl(){W:Cowl(angle=90){}}
S:Cowl(){E:Cowl(){E:Cowl(angle=90){}}W:Cowl(){W:Cowl(angle=90){}}
S:Cowl(){E:Cowl(){E:Cowl(angle=90){}}W:Cowl(){W:Cowl(angle=90){}}}}}}}

S:Frame(angle=90, option=1){S:Frame(angle=-90, option=1){
N:TrimF(name=MC, angle=-90, option=1){}
E:Jet(angle=-90, power=MSJ, color=#303030){}
W:Jet(angle=-90, power=-MSJ, color=#303030){}
E:Jet(angle=90, power=-MSJ, color=#303030){}
W:Jet(angle=90, power=MSJ, color=#303030){}
E:Jet(power=Gen, color=#303030){E:Cowl(angle=90, option=5, color=#000000){}}
W:Jet(power=Gen, color=#303030){W:Cowl(angle=90, option=5, color=#000000){}}
N:Frame(option=1){
E:Jet(angle=-90, power=MSJ, color=#303030){}
W:Jet(angle=-90, power=-MSJ, color=#303030){}
E:Jet(angle=90, power=-MSJ, color=#303030){}
W:Jet(angle=90, power=MSJ, color=#303030){}
E:Jet(power=Gen, color=#303030){E:Cowl(angle=90, option=5, color=#000000){}}
W:Jet(power=Gen, color=#303030){W:Cowl(angle=90, option=5, color=#000000){}}
N:Frame(option=1){
E:Jet(power=Gen, color=#303030){E:Cowl(angle=90, option=5, color=#000000){}}
W:Jet(power=Gen, color=#303030){W:Cowl(angle=90, option=5, color=#000000){}}
N:Frame(option=1){
E:Jet(power=Gen, color=#303030){E:Cowl(angle=90, option=5, color=#000000){}}
W:Jet(power=Gen, color=#303030){W:Cowl(angle=90, option=5, color=#000000){}}
N:Frame(option=1){
N:TrimF(name=FC, angle=-90, option=1){}
E:Jet(power=Gen, color=#303030){E:Cowl(angle=90, option=5, color=#000000){}}
W:Jet(power=Gen, color=#303030){W:Cowl(angle=90, option=5, color=#000000){}}
E:Jet(angle=-90, power=FSJ, color=#303030){}
W:Jet(angle=-90, power=-FSJ, color=#303030){}
E:Jet(angle=90, power=-FSJ, color=#303030){}
W:Jet(angle=90, power=FSJ, color=#303030){}
E:Frame(option=1){
E:TrimF(angle=-90, option=1){W:Jet(name=FNE, power=FWNE, color=#303030){

S:Cowl(angle=-90){
E:Cowl(angle=-90){S:Cowl(option=5){}}W:Cowl(angle=-90){S:Cowl(option=5){}W:Cowl(angle=-90){S:Cowl(option=5){}}}
S:Cowl(option=5){}}
S:Cowl(angle=90){
E:Cowl(angle=90){S:Cowl(angle=-Front, option=5, color=#303030){}}
W:Cowl(angle=90){S:Cowl(angle=-Front, option=5, color=#303030){}
W:Cowl(angle=90){S:Cowl(angle=-Front, option=5, color=#303030){}}}
S:Cowl(angle=-Front, option=5, color=#303030){}}}}

E:RudderF(angle=90, option=1){E:Jet(power=HoverNE, color=#303030){
E:Cowl(angle=90, option=5, color=#000000){N:Cowl(angle=30, color=#000000){}}}}
E:RudderF(angle=45, option=1){E:Jet(power=HoverNE, color=#303030){
E:Cowl(angle=90, option=5, color=#000000){N:Cowl(angle=30, color=#000000){}}}}
E:Frame(name=JetNE, option=1){E:Jet(power=HoverNE, color=#303030){
E:Cowl(angle=90, option=5, color=#000000){N:Cowl(angle=30, color=#000000){}}}}
E:RudderF(angle=-45, option=1){E:Jet(power=HoverNE, color=#303030){
E:Cowl(angle=90, option=5, color=#000000){N:Cowl(angle=30, color=#000000){}}}}
E:RudderF(angle=-90, option=1){E:Jet(power=HoverNE, color=#303030){
E:Cowl(angle=90, option=5, color=#000000){N:Cowl(angle=30, color=#000000){}}}}}

W:Frame(option=1){
W:TrimF(angle=90, option=1){E:Jet(name=FNW, power=FWNW, color=#303030){

S:Cowl(angle=-90){
E:Cowl(angle=-90){S:Cowl(option=5){}}W:Cowl(angle=-90){S:Cowl(option=5){}W:Cowl(angle=-90){S:Cowl(option=5){}}}
S:Cowl(option=5){}}
S:Cowl(angle=90){
E:Cowl(angle=90){S:Cowl(angle=-Front, option=5, color=#303030){}}
W:Cowl(angle=90){S:Cowl(angle=-Front, option=5, color=#303030){}
W:Cowl(angle=90){S:Cowl(angle=-Front, option=5, color=#303030){}}}
S:Cowl(angle=-Front, option=5, color=#303030){}}}}

W:RudderF(angle=-90, option=1){W:Jet(power=HoverNW, color=#303030){
W:Cowl(angle=90, option=5, color=#000000){N:Cowl(angle=30, color=#000000){}}}}
W:RudderF(angle=-45, option=1){W:Jet(power=HoverNW, color=#303030){
W:Cowl(angle=90, option=5, color=#000000){N:Cowl(angle=30, color=#000000){}}}}
W:Frame(name=JetNW, option=1){W:Jet(power=HoverNW, color=#303030){
W:Cowl(angle=90, option=5, color=#000000){N:Cowl(angle=30, color=#000000){}}}}
w:RudderF(angle=45, option=1){W:Jet(power=HoverNW, color=#303030){
W:Cowl(angle=90, option=5, color=#000000){N:Cowl(angle=30, color=#000000){}}}}
W:RudderF(angle=90, option=1){W:Jet(power=HoverNW, color=#303030){
W:Cowl(angle=90, option=5, color=#000000){N:Cowl(angle=30, color=#000000){}}}}}}}}}

S:Frame(option=1){
E:Jet(power=Gen, color=#303030){E:Cowl(angle=90, option=5, color=#000000){}}
W:Jet(power=Gen, color=#303030){W:Cowl(angle=90, option=5, color=#000000){}}
S:Frame(option=1){
E:Jet(power=Gen, color=#303030){E:Cowl(angle=90, option=5, color=#000000){}}
W:Jet(power=Gen, color=#303030){W:Cowl(angle=90, option=5, color=#000000){}}
S:Frame(option=1){
S:TrimF(name=RC, angle=90, option=1){}
E:Jet(power=Gen, color=#303030){E:Cowl(angle=90, option=5, color=#000000){}}
W:Jet(power=Gen, color=#303030){W:Cowl(angle=90, option=5, color=#000000){}}
E:Jet(angle=-90, power=RSJ, color=#303030){S:Chip(){}}
W:Jet(angle=-90, power=-RSJ, color=#303030){S:Chip(){}}
E:Jet(angle=90, power=-RSJ, color=#303030){S:Chip(){}}
W:Jet(angle=90, power=RSJ, color=#303030){S:Chip(){}}
E:Frame(option=1){
E:TrimF(angle=-90, option=1){E:Jet(name=FSE, power=FWSE, color=#303030){

S:Cowl(angle=-90){
E:Cowl(angle=-90){S:Cowl(option=5){}}W:Cowl(angle=-90){S:Cowl(option=5){}W:Cowl(angle=-90){S:Cowl(option=5){}}}
S:Cowl(option=5){}}
S:Cowl(angle=90){
E:Cowl(angle=90){S:Cowl(angle=-Front, option=5, color=#303030){}}
W:Cowl(angle=90){S:Cowl(angle=-Front, option=5, color=#303030){}
W:Cowl(angle=90){S:Cowl(angle=-Front, option=5, color=#303030){}}}
S:Cowl(angle=-Front, option=5, color=#303030){}}}}

E:RudderF(angle=90, option=1){E:Jet(power=HoverSE, color=#303030){
E:Cowl(angle=90, option=5, color=#000000){S:Cowl(angle=30, color=#000000){}}}}
E:RudderF(angle=45, option=1){E:Jet(power=HoverSE, color=#303030){
E:Cowl(angle=90, option=5, color=#000000){S:Cowl(angle=30, color=#000000){}}}}
E:Frame(name=JetSE, option=1){E:Jet(power=HoverSE, color=#303030){
E:Cowl(angle=90, option=5, color=#000000){S:Cowl(angle=30, color=#000000){}}}}
E:RudderF(angle=-45, option=1){E:Jet(power=HoverSE, color=#303030){
E:Cowl(angle=90, option=5, color=#000000){S:Cowl(angle=30, color=#000000){}}}}
E:RudderF(angle=-90, option=1){E:Jet(power=HoverSE, color=#303030){
E:Cowl(angle=90, option=5, color=#000000){S:Cowl(angle=30, color=#000000){}}}}}

W:Frame(option=1){
W:TrimF(angle=90, option=1){W:Jet(name=FSW, power=FWSW, color=#303030){

S:Cowl(angle=-90){
E:Cowl(angle=-90){S:Cowl(option=5){}}W:Cowl(angle=-90){S:Cowl(option=5){}W:Cowl(angle=-90){S:Cowl(option=5){}}}
S:Cowl(option=5){}}
S:Cowl(angle=90){
E:Cowl(angle=90){S:Cowl(angle=-Front, option=5, color=#303030){}}
W:Cowl(angle=90){S:Cowl(angle=-Front, option=5, color=#303030){}
W:Cowl(angle=90){S:Cowl(angle=-Front, option=5, color=#303030){}}}
S:Cowl(angle=-Front, option=5, color=#303030){}}}}

W:RudderF(angle=-90, option=1){W:Jet(power=HoverSW, color=#303030){
W:Cowl(angle=90, option=5, color=#000000){S:Cowl(angle=30, color=#000000){}}}}
W:RudderF(angle=-45, option=1){W:Jet(power=HoverSW, color=#303030){
W:Cowl(angle=90, option=5, color=#000000){S:Cowl(angle=30, color=#000000){}}}}
W:Frame(name=JetSW, option=1){W:Jet(power=HoverSW, color=#303030){
W:Cowl(angle=90, option=5, color=#000000){S:Cowl(angle=30, color=#000000){}}}}
w:RudderF(angle=45, option=1){W:Jet(power=HoverSW, color=#303030){
W:Cowl(angle=90, option=5, color=#000000){S:Cowl(angle=30, color=#000000){}}}}
W:RudderF(angle=90, option=1){W:Jet(power=HoverSW, color=#303030){
W:Cowl(angle=90, option=5, color=#000000){S:Cowl(angle=30, color=#000000){}}}}}}}}}}
}

}

Script{

print 1,"Weight: ",_WEIGHT()
print 2,"Fuel: ",_FUEL()," LVL: ",_FUEL()/310000," %"
print 3,"Speed: ", _VEL()," m/s, ",_VEL()*36/10," km/h, ",_VEL()*3600/1852," kts"
print 4,"Height: ",_H()

MDD=_MOD(MDD+_KEYDOWN(13),2)

if MDD=0{
Front=Cpam1
Cpam2=Cpam1
Side=Cpam3
Cpam4=Cpam3
print 7,"PATROL MODE"}

if MDD=1{
Front=Cpam2
Cpam1=0
Side=Cpam4
Cpam3=0
print 7,"CRUISE MODE, Input speed: ",Cpam2}

Ign=_MOD(Ign+_KEYDOWN(5),2)

if Ign=0{
Gen=Gen-10
FWNE=0
FWNW=0
FWSE=0
FWSW=0
FSJ=0
RSJ=0
MSJ=0
HoverNE=0
HoverSE=0
HoverNW=0
HoverSW=0}

if Ign=1{
Gen=_WEIGHT()*54/16-_VY()*10000
FWNE=(Front-_VY(FNE))*10000
FWNW=(Front-_VY(FNW))*10000
FWSE=(Front-_VY(FSE))*10000
FWSW=(Front-_VY(FSW))*10000
FSJ=(Side+Ster-_VY(FC))*10000
MSJ=(Side-_VY(MC))*10000
RSJ=(Side-Ster-_VY(RC))*10000}

if Ign=1 & _H(JetNW)>(0){
HoverNW=(2-_H(JetNW))*50000-_VY(JetNW)*15001}

if Ign=1 & _H(JetSE)>(0){
HoverSE=(2-_H(JetSE))*50000-_VY(JetSE)*15001}

if Ign=1 & _H(JetSW)>(0){
HoverSW=(2-_H(JetSW))*50000-_VY(JetSW)*15001}

if ign=1 & _H(JetNE)>(0){
HoverNE=(2-_H(JetNE))*50000-_VY(JetNE)*15001}

if ign=1 & _H(JetNE)<(0){
HoverNE=(2-_Y(JetNE))*5000-_VY(JetNE)*15001+(_Y(JetSE)-_Y(JetNE))*10000+(_Y(JetNW)-_Y(JetNE))*100000}

if ign=1 & _H(JetNW)<(0){
HoverNW=(2-_Y(JetNW))*5000-_VY(JetNW)*15001+(_Y(JetSW)-_Y(JetNW))*10000+(_Y(JetNE)-_Y(JetNW))*100000}

if ign=1 & _H(JetSE)<(0){
HoverSE=(2-_Y(JetSE))*5000-_VY(JetSE)*15001+(_Y(JetNE)-_Y(JetSE))*10000+(_Y(JetSW)-_Y(JetSE))*100000}

if ign=1 & _H(JetSW)<(0){
HoverSW=(2-_Y(JetSW))*5000-_VY(JetSW)*15001+(_Y(JetNW)-_Y(JetSW))*10000+(_Y(JetSE)-_Y(JetSW))*100000}

}


Hover





Posts

: 105


Join date

: 2011-03-24




---
Permissions in this forum:
You
cannot
reply to topics in this forum